If you want your children to be intelligent, read them fairy tales.
If you want them to be more intelligent, read them more fairy tales
-Albert Einstein
BCSCR has a lot for communities: neighborhood libraries, workshops on helping kids read, family reading nights, reading blogs, free books, and more!
Little Free Libraries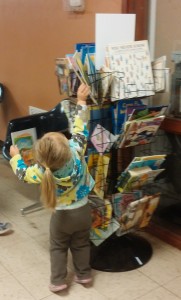 We're setting up Little Free Libraries in every district. A Little Free Library is a place where you can pick up a book to keep and drop off books for other people to read. Some libraries are book racks, and some are "book houses."
Take a book–Leave a book! Look for one in a neighborhood near you!

Businesses and Organizations: Do you want to sponsor a Little Free Library? If you help build it, we'll let you put your name on it! How cool is that?
Community Groups: Do you want to host a Little Free Library? You can put one in your facilities for your patrons to enjoy.
Libraries contain book for all age groups, from toddlers to adults.
Parent Workshops
Over the next year and a half, we'll be hosting workshops on how parents can help their children read better. You want your kids to read well, right? Come learn how you can make it happen! Your regional coordinator will let you know when they are scheduled. All participants will get free books to take home.
Family Reading Nights
Just what it says…a place and time to get together to read with your family…and lots of other families from your community. Look for the schedules posted soon! Let's show our children that everyone reads!
Reading Blogs
What are you reading? Do you like it? Would you recommend it to your neighbors? Share it with the world on your community reading blog!
Sign up to be a member of the blog and you will be able to create posts about what you're reading! Share your books with the ENTIRE WORLD.
If your state is…
and your school district is…
then your reading blog is…
Arizona
Cedar, Chinle, Ganado, Kayenta, Pinon, Red Mesa, Window Rock
http://squirrels.3riversed.org
Arizona
Alpine, Concho, Heber/Overgaard, Holbrook, Joseph City, McNary, Sanders, Show Low, St. Johns, Vernon, Whiteriver, Winslow
http://badgers.3riversed.org
Colorado
Dolores, Montezuma / Cortez, Silverton
http://beavers.3riversed.org
Colorado
Alamosa, Centennial, Center, Del Norte, Mountain Valley, North Conejos, Sangre de Cristo, Sargent, Sierra Grande, South Conejos
http://jackrabbits.3riversed.org
New Mexico
Central Consolidated, Gallup-McKinley
http://bobcats.3riversed.org
New Mexico
Bloomfield, Cuba, Dulce, Jemez Mountain
http://jaguars.3riversed.org
New Mexico
Espanola, Questa, Taos 
http://lions.3riversed.org
New Mexico
Raton, Springer
http://antelopes.3riversed.org
New Mexico
Pecos, Santa Rosa, Wagon Mound
http://cottontails.3riversed.org
New Mexico
Floyd, Grady, Logan, Melrose, Roswell, San Jon, Texaco, Tucumcari
http://javalinas.3riversed.org
New Mexico
Capitan, Carrizozo, Cloudcroft, Ft. Sumner, Hondo Valley, Ruidoso, Tularosa 
http://raccoons.3riversed.org
New Mexico
Animas, Cobre, Deming, Hatch Valley, Lordsburg, Reserve, Silver City, Truth or Consequences
http://elks.3riversed.org
New Mexico
Estancia, Magdalena, Mountainair, Quemado, Socorro, Vaughn
http://bison.3riversed.org
New Mexico
Clovis, Portales
http://bears.3riversed.org

New Mexico

Texas

Las Cruces

Ysleta

http://suncity.3riversed.org